This was so easy and very yummy!!
Throw it in the fridge in the morning and on the grill in the evening!!
My whole family enjoyed it!!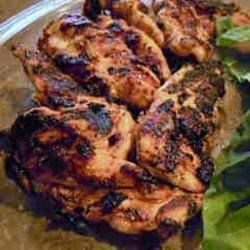 4 chicken breasts, thawed
2 pkg. dry ranch dressing mix
4 Tblsp. olive oil
2 Tblsp. vinegar
Place chicken in a gallon zip-lock bag. In a small bowl, whisk together remaining ingredients. Pour over chicken. Seal bag and toss to coat the chicken (I like the squeeze the chicken and kind of massage the dressing all over it). Refrigerate for at least 1 hour, but the longer the better. Grill until done! Serve!!!
Note:
-I cut my chicken in 2-1/2 inch strips lengthwise and pierce them all over with the tip of a sharp knife, so that the marinade can get all the way into the chicken and it makes it taste so yummy!!!