Many of you may have seen this recipe or even made it before.
I have been seeing it all over (especially on Pinterest).
It sounded so good and we finally had all the ingredients on hand to make it!
I thought it was very easy and yummy!
I served it over pasta, but you could serve it over rice or mashed potatoes if you wanted.
Hope you like it! It's a great fall food!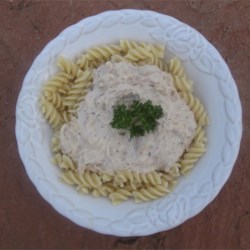 4 chicken breasts, thawed
1 pkg. dry zesty italian dressing mix
1 (8-oz.) pkg. cream cheese, softened
2 ( 10-3/4 oz.) cans cream of chicken soup (Click
here
for the Gluten-Free equivalent)
Cooked Pasta, Rice or Potatoes
Place chicken in a greased slow-cooker. Sprinkle with italian dressing mix. In a small saucepan, combine the cream cheese and cream of chicken soup over medium heat, stirring constantly until well combined. Pour over chicken. Cover and cook on low at least 4 hours or until chicken is done. You can leave it in longer than that, just make sure it gets at least 4 hours. You can serve it as is, or shred or cube the chicken. Make sure you stir to combine everything before you serve it!
Note:
-This was great just like it was, but I think you could personalize it a little bit to your preference. I think some mushrooms would be awesome in this, and my dad said he thought it would be great with some salad shrimp. Some peas would be good too, I think. So have fun and make it your own!
-This recipe is very easy to double or triple, depending on how many you need to feed. I doubled the recipe for my family (7 people) and we had a little leftover.